The relative importance of protecting and growing our assets exceeds our future income potential, beginning in our early 50s.
Human capital is your lifetime earning potential. It declines with age and reaches 0 when you retire. Life insurance protects your family against a human capital loss. The insurance payout is meant to replace the insured's future earnings, if the insured dies unexpectedly.
Financial capital is your investable asset. During your working life, new savings and investment return fuel the growth of financial capital. This growth starts to decline in retirement, as assets are drawn on to meet expenses.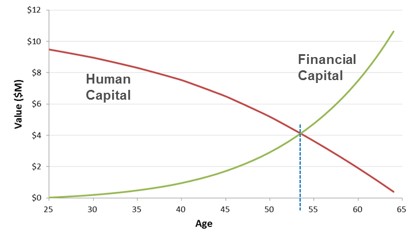 The viewgraph depicts the working years of a high earner who is also an excellent saver and investor.
Financial capital increases with age during your working years, and surpasses human capital in your early 50's, often well before retirement. Beyond this crossover point, financial capital has more of an impact on your retirement lifestyle than human capital. Good financial planning is needed to protect financial capital. Read the article on "A Framework for a Tax-Free Retirement" to chart your roadmap to an optimal retirement.
We specialize in tax-free retirement strategy and investments such as IUL, Annuity and LTC. Prefer a quick and complimentary consultation? Just email us at Karthik@FinCrafters.com