Insurance policies with LTC coverage provide better benefits than those with Chronic Illness coverage though the qualification criteria are the same.
The qualification criteria for both Long-Term Care (LTC) and Chronic Illness benefits are the same: unable to perform 2 out of 6 ADLs (bathing, dressing, using the toilet, eating, transferring and continence), or severe cognitive impairments such as Alzheimer's or Dementia. However, important differences exist between the two benefit classifications as captured below.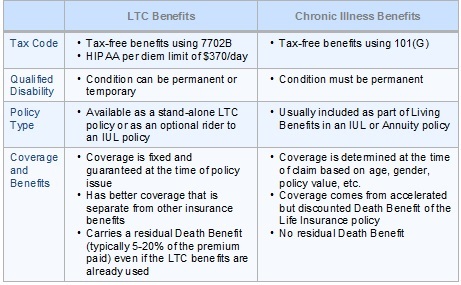 Please refer to our blogs "How A LTC Policy Works" and "LTC Policy Design Considerations" for an illustration of a standalone LTC policy, and key features that differentiate a top-quality policy.
We specialize in tax-free retirement strategy and investments such as IUL, Annuity and LTC. Prefer a quick and complimentary consultation? Just email us at Karthik@FinCrafters.com