IUL costs are dominated by sales charges, which are front-loaded, along with the cost of insurance which increases with age. The lifetime cost of holding an IUL investment is about the same as for any other money management fees, which is typically 1-2% of AUM.
Indexed Universal Life (IUL) investments offer both tremendous growth potential and great tax benefits. However, the costs and fees associated with this kind of investment requires some explanation. There are two main types of charges: sales charges and cost of insurance (COI) charges. The summary of these charges is provided in the table. All the charges are deducted from the account value itself.
The sales charges are front-loaded and apply during the initial 7-10 year period when the policy premiums are being paid. It has two components: premium charge and per-1000 charge. These are charges based on a fixed percentage taken from the premium amount. Taken together, they add up to about a quarter of all the IUL costs. The rest of the cost is mostly from COI (Cost of Insurance), which provides permanent life insurance coverage for the insured.
The COI for younger people is small and in the sub-dollar range for a unit (or $1000) of life insurance coverage. It increases with age and is more than $10/unit for people older than 70, as illustrated in the viewgraph.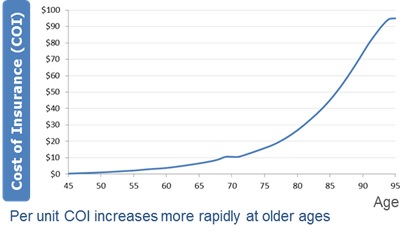 In the next viewgraph, the total annual cost is expressed as a percentage of the policy value (Accumulated Value or AV). The initial percentages are high because of the front-loaded sales charges and the smaller policy values. However, the average cost over a 50-year IUL policy is ≈1.5%, which is about the same for an actively managed fund. Still, IUL enjoys tax-free growth and distribution. Assuming a third of the growth rate for taxes, just the tax savings alone would cover more than all the IUL costs.
While on the topic of IUL costs, let us also review the surrender charges. These charges are designed to discourage people from getting in and out of an IUL policy in quick succession. IUL investments are meant for the long-term. Surrender charges typically end after the first decade of investment.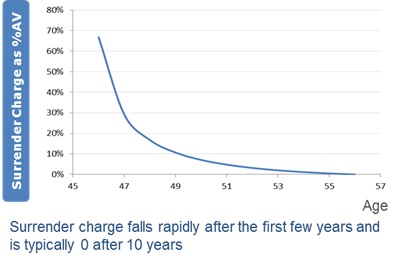 We included all these cost elements in our IUL analysis and performance evaluation. To understand the different phases of an IUL investment, please refer to our blog "How IUL Works."
We specialize in tax-free retirement strategy and investments such as IUL, Annuity and LTC. Prefer a quick and complimentary consultation? Just email us at Karthik@FinCrafters.com