Life Insurance products have evolved so as to be able to serve a multitude of financial purposes. IUL is the best of these products and an effective tool for retirement planning.
Let us take a brief tour through the evolution of life insurance products from their beginnings as a simple protection instrument to their becoming a complex yet effective retirement planning tool. Each product line has made incremental advances in making insurance products more amenable to investments.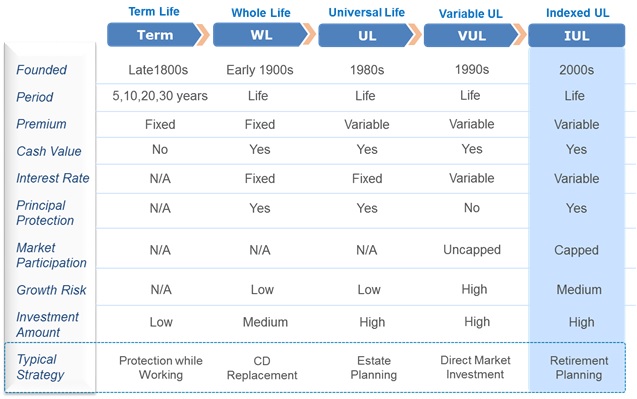 Term Life, the earliest product, introduced in the late 1800s, pays out a death benefit if the insured passes away within the specific term, and its premium costs a fixed amount. The protection lapses if a premium payment is missed. Term Life offers the highest protection for the smallest premium and has no cash value. It also protects your family against a human capital loss, or against your future earnings potential. Please refer to "Human Vs. Financial Capital" for more information on this topic.
The next product, Whole Life, introduced in the early 1900s, added the critical cash value component that turned insurance products into an investment option. It also provided permanent life insurance with a guaranteed death benefit. The cash value earned a low but fixed interest rate. Whole Life is often used as a bank CD replacement.
Universal Life, introduced in the 1980s, made the premium payment to be a variable amount, thus allowing the policy not to lapse because of an occasional missed premium. However, missing or paying a lower premium will adversely affect policy benefits. This product is commonly used by ILITs in Estate Planning. You can read about it in our blog article "Irrevocable Life Insurance Trust (ILIT)."
The next development in the evolution of insurance products was Variable Life, introduced in the 1990s. This product allowed for investment in capital markets. The potential increase in investment return comes therefore with a higher market risk. The downside to this product is the higher management fees, typically ≈2%, compared to other financial instruments.
IUL (Indexed Universal Life), the newest product, introduced in the 2000s, retained the best features from the previous product lines. IUL offers a permanent life insurance with a flexible premium. It provides market return subject to caps, which limits the upside potential. However, the cash value is not directly invested in the market. There is reduced risk because the principal is protected from any market downside, and volatility is lower than that of the market. Thanks to IRC 7702, your money grows tax-deferred and can be used tax-free (similar to a Roth IRA), which makes IUL a great choice for retirement investment. Our blogs "How IUL Works" and "IUL Benefits" provide a detailed view of an IUL investment.
We specialize in tax-free retirement strategy and investments such as IUL, Annuity and LTC. Prefer a quick and complimentary consultation? Just email us at Karthik@FinCrafters.com