Investments like IULs and Annuities use an index crediting method to track market return. These methods effectively narrow the range of returns for IULs and Annuities.
In what follows, we show how a point-to-point index credit system works, according to different market scenarios, in an IUL (Indexed Universal Life) and FIA (Fixed Index Annuity). There are many types of index credit methods discussed in "IUL / FIA Credit Strategies and Capital Preservation Explained." We use a simple 12% cap in our example.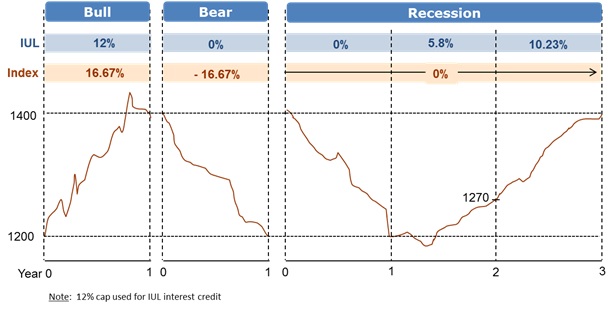 Bull Market: Market index levels are typically measured at the beginning and end of your investment anniversary. The difference between the two levels is hugely positive in a bull market year. However, the market gain is limited with a cap, spread or participation rate specified in the index crediting method. This is the annual return applied to the account values in an IUL and Annuity. In our example, the index return of 16.67% is capped at 12%.
Bear Market: The annual return in a bear market is negative. However, IULs and Annuities are principal protected, which means that their annual return will be 0%, thereby preserving principal and lowering volatility. These and other benefits are explained in the "IUL Benefits" and "Annuity Benefits" blog articles.
Market Recession & Recovery: Point-to-point index credit allows IUL and Annuity to realize a net positive gain during a market downturn and subsequent recovery, wherein the underlying index essentially returns 0%. The Nasdaq started and ended at ≈5,000 between March 2000 and March 2015. An index credit strategy with a 5% spread (points deducted off the top of an index return) would have quadrupled the value with a 9% annualized return during the same period.
Index credit methods are often used to compare the performance of IUL or Annuity products. Many of these products offer some form of bonus that enhances the index credit, and they need to be factored in to do a fair comparative analysis. Some products even offer a 'pay for performance' feature, whereby you can buy-in a market performance booster.
We specialize in tax-free retirement strategy and investments such as IUL, Annuity and LTC. Prefer a quick and complimentary consultation? Just email us at Karthik@FinCrafters.com