Let us demonstrate the functionality of the Cash Flow IRR Calculator from FinCrafters app using a market investment that was held for 5 years.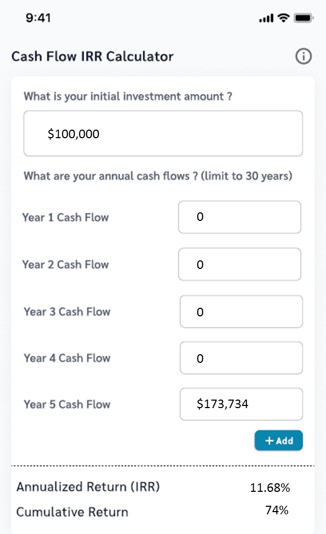 In our example, the initial investment of $100K in the market has appreciated to $173,734 by the end of year 5. The IRR, in this instance, matches the annualized return or CAGR from the market because there were no withdrawals during the investment period.
This calculator can also be used for investment scenarios where there are constant cash flows (positive or negative) prior to liquidating the asset or investment. Examples include real estate rentals, bonds, annuities, business activities, etc. Read more about a topic related to these scenarios in "What Does Inflation-Adjusted Means?"
We specialize in tax-free retirement strategy and investments such as IUL, Annuity and LTC. Prefer a quick and complimentary consultation? Just email us at Consult@FinCrafters.com!